The Romans had just under 1000 communal baths! This means that people were very comfortable bathing in front of one another, never hesitating to be in the nude. As American's we are taught at a young age to keep our bodies private. I think at a young age in Rome you would become accustomed to being naked during the appropriate times. Bathing is definitely an appropriate time!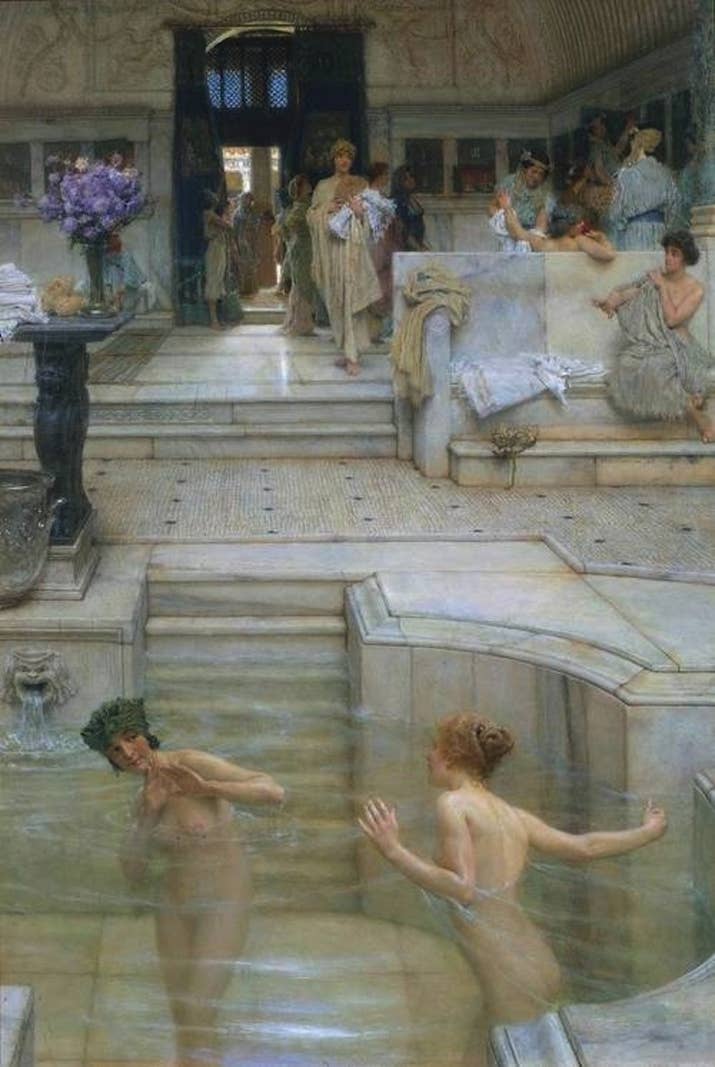 Many times the baths were used to socialize and meet new people too! Can you imagine dating like this, meeting your husband like this! Seems a bit strange, but it truly wasn't! The largest communal bath held up to 3000 people. This just shocked me when I was gathering research about this art. Even some of the greatest business conversations of Rome were discussed during the relaxing baths.
My experience in the herbal laconium at the Canyon Ranch Spa wasn't shocking or full of conversation. It was almost complete opposite. But my research led me to discover that the laconium was created to duplicate the Roman sauna. This is a shared space where the temperature is around 140 degrees Fahrenheit (65 degrees Celsius).
When you inhale the air you can smell the herbs. The air actually feels dry and helped me with some allergies I was experiencing. It doesn't' feel sweltering hot because the humidity is controlled at around 15-20%.
As a Floridian now, and a Hoosier (from Indiana) growing up, I realize how much the change in humidity makes the temperature feel. When the humidity is so low your body temperature doesn't rise as fast. 
In a laconium your body will actually be forced into a dry sweat. It feels absolutely amazing! When I entered into the room for the first time I thought the area to sit on was small and hard. Every surface was made of tile.
I did decided to entertain myself as the Roman's did and went in the nude, so I brought a towel in with me to sit on. (This is highly recommended and a good practice I think.) This was better than sitting on the hard stone. Later I discovered that the room was intentionally designed this way. With surfaces covered in tile it was then easy to control the temperature of the surface. Just like when you enter into your friends fancy bathroom with the heated floors… This tile is thermostatically heated and the spa will control the temperature. As the heat rises through the tile it produces a cozy heat that flows from your feet up through your limbs and into your nose. It is delightful!
Best Ever Day!!
Sincerely,
TheSpaBlogBoss
Side Note: This Do as the Romans Did! post is not hosted or sponsored at this time. All opinions expressed in this blog post are my own and not influenced in any way. Any statistic, quote or other representation about a product or service should be verified with provider, but please refer to this site's Disclosure for more information. I have not been compensated. Thank you!